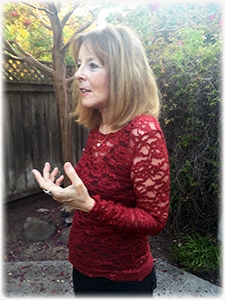 Dr. Patrice Wolters has been a licensed psychologist for over 25 years, specializing in relationship therapy and early identification of mental health conditions in young people. As a relationship expert, she enjoys helping couples communicate effectively, resolve conflicts, overcome the trauma of an affair, develop intimacy skills and develop team parenting skills. She has developed a model of change "Go from a Maze to Amazing" that helps people identify where they are stuck, learn skills to get moving and develop the capacities to get to amazing. She is also a teacher, poet and performing artist with a special interest in writing mental health lyrics.
Her unusually varied range of experiences is driven by her interests in the performing arts and athletics. In the past, she has worked as a sports psychologist to football players, taught Salsa lessons to teens, and made radio presentations on depression and the holiday blues syndrome. Also, she worked at Stanford University to develop a program for teenage mothers.
Music and Mental Health
Dr. Wolters comes from a family of music lovers and was a pianist herself; this influenced her love for music. With a strong commitment to the early detection and treatment of mental health challenges in young people she has been working on the Music and Mental Health Initiative since 2006. Her interest in lyrics has really been a progression that began with her work with juveniles, placed by the courts in residential treatment facilities, as they taught her about their life through their music. Her association with ballroom dancing (where she performed to a fusion of Latin and hip hop) sparked this interest furthermore. Dr. Wolters' love for writing lyrics in a hip hop format also evolved out of journaling and poetry as forms of self-expression. You can hear samples of Dr. Patrice Wolters' work and learn about this groundbreaking initiative here.
Credentials
Education:
B.A. and M.A., University of Minnesota
Ph.D., University of Oregon
Teaching Experience:
Martin Luther King Center, St. Paul, MN – Taught preschoolers
University of Minnesota – Taught Educational Psychology
University of Oregon – Taught Child Development
The Couples Institute – Taught a group of therapists
Memberships & Associations:
American Psychological Association, 2014
Former member Santa Clara Psychological Association
Former member Monterey Bay Psychological Association
There is hope, there is help and it's just a phone call away. Call 408-358-9679 for a complimentary phone consultation.
Phone: 408-358-9679
16575-B Los Gatos-Almaden Road, Los Gatos, CA 95032
315 Los Gatos-Saratoga Road, Los Gatos, CA 95030
Dr. Patrice Wolters – Relationship Counseling provided by a Relationship Counselor and Licensed Psychologist in Los Gatos and Campbell, CA, California